my shopping bag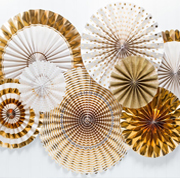 My Mind's Eye
Beautiful range of paper goods for parties.
PRODUCT OUT OF STOCK
Our little sweetheart plates will bring a little shimmer to any party with the metallic gold and marshmallow pink hearts. Produced with a gorgeous gloss finish, these quality paper plates are perfect for any occasion - kitchen teas, bridal showers and birthdays of all ages. 10 party-perfect plates per pack.
Dimensions: Diameter 23cm (9 inch)
RRP: $6.50
Minimum buy: 1 item